Hello Organizers!
Are you ready to dive into your tools and essential staples?!
TOOLS
Punches
Heat Gun
Deco Scissors
Hole Punches (hand held or Crop-A-Dile)
Eyelet Setter
Circle/Shape Cutter
Die-Cut Machines and Accessories
STAPLES
Trimmers
Rulers
Everyday scissors
Craft Knife
Pens
Markers/Colored Pencils
Adhesives
(Feel free to add any others to your own list.)
Last week, in a desperate need to simplify my life, I decided to purge a WHOLE bunch of scrapbook supplies. I would have thought that wouldn't include too many of my tools, but I was wrong.
I think tools are one of the most difficult things for people to purge and organize. Well, they are for me! I think the thing that helped me most... is really sitting down (or you know, standing up) to figure out HOW much I use them, WHERE in my scrap space I use them, and WHEN (in my creative process) I use them. These questions helped me SO much went I went about organizing them.
I do know this about tools... the ones you use (or want to/like to use) ALL the time, should be at arm's reach, or you won't use them. So pretty much what I did... I got rid of all punches, shape cutters and deco scissors that I never use. If you keep these things thinking, "But what if I *DO* need this some day?!" you're going to just collect stuff you never use.
Seriously, if you haven't used it in a year, get rid of it. Give it to a friend (or your kids or your garage...), and if you need it, just borrow it from them. And then if you need one down the road, and you feel like you're *constantly* saying, "I wish I had this!" then go buy it. It feels good to purge things you don't use. :) (And you don't feel guilty for not having tools you're not using.) I promise... if you get rid of something you don't ever use, you won't miss it, and you'll forget you even had it! LOL.
Also, tools... are a bit cumbersome. Some are fun to play with, but sometimes you're just in this crafting "groove," and the thought of taking the time to get the tools out and actually use them is more work than you want. And... you may feel like it's not worth the work, so you just skip the tool usage.
THIS is why I keep all my tools in OPEN storage containers, baskets or bins. (Tools don't have to have any fancy storage.) This way, I can reach over and grab something quickly. I don't have to pull something off a shelf, open a box, etc. My heat gun with embossing powders (which are rarely used) do sit on a top shelf, but they're also in an open container, so if I do need them, everything is RIGHT there.
Right next to my Making Memories trimmer (that sits on a table), I keep my Creative Memories photo trimmer, other portable trimmers, my rulers, and a 3-hole punch... and they all sit in an open basket:
I've used this for the past two years, and it REALLY works for me. Grab and go. I don't have to open a drawer or open a box, and I LOVE that. Tools already take long enough to use... I don't need that extra time needed to actually GET to them. LOL.
The Organized and Inspired Scrapbooker suggests doing a layout or two (like... right now) to decide which tools you use ALL the time. My suggestion is that while you are working on a layout, keep a shoebox (or container that size) on your table or down on the floor at your feet. As you use tools, throw them in that box while you're not using them. Then at the end of your creating process, look at what's in that box. What did you use? What did you use the most? And think about keeping all those things together from now on.
Simple Scrapbooks magazine's "Basic Tool Kit" includes:
portable paper trimmer
small scissors (I use Cutter Bee)
black archival journaling pen (I use Copic blows ZIG out of the water)
pencil (I use an archival safe one from Creative Memories)
pencil sharpener
art gum eraser
paper adhesive
photo adhesive
portable container to hold above tools (try these Stockholm boxes)
If you only use three main adhesives on every layout and maybe two journaling pens, it's okay to keep those in one place or in your portable container, and then keep the rest of all your pens and refill adhesives in a closed container up on a shelf some place. (I have a set of two drawers that stay up on a shelf. One drawer holds extra pens/markers/pencils and the other holds random adhesive I don't use much, plus refills for the ones I do.)
If you feel like you don't have enough space for your supplies and how you want to organize them, then think UP. Shelves above your workspace can create SO much more room. Once I installed shelving (elfa from The Container Store, which goes on sale 30% off - tomorrow through May 10th), I couldn't believe the extra space I created. Even if you have only one corner of a room, you can use shelves as high as your wall.
Underneath my work space (I'm a standing scrapper), I have a small basket that holds punches: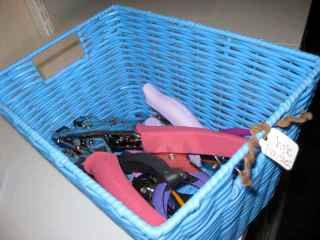 And then my deco scissors and Fiskars punches (which I use on just about every layout), are kept in this cute open container on a shelf right at eye level: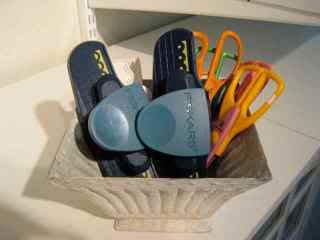 I keep my punches (organized by shape... one container for circles, one for squares, and one for flowers/hearts/stars/etc) in these canvas bins from The Container Store. Those bins are in a row on the floor under my computer space, but still within reach. I LOVE punches, and I use them ALL the time. I used to have them in a closed box on a shelf, but because punches are heavy, it was more practical for me to store them down low.
The Organized and Inspired Scrapbooker also suggests keeping tools hidden away in drawers or closed boxes or closets... because they are usually unsightly and can be an eye-sore to a "pretty" scrap space. I just wanted to mention this as well because not everyone organizes and stores things the same, and this may be an option you'd prefer.
For more photos of my scrap space, visit the December archives of my blog. :)
I hope everyone has fun organizing their tools and staples! I can't wait to see what everyone does! If you post your photos to our Flickr group, let us know, so we can go see!
p.s. I've decided to post challenges on the 14th and 28th of each month from now on. I don't know about you ladies (and gents?), but those days are always bittersweet for me. I'm excited for Reveals, but then I have to wait 14 more days for the *next* Reveal. LOL! So I thought this would be fun... keep us busy for those 14 days, and also give us something to look forward to after the Reveals are Revealed.